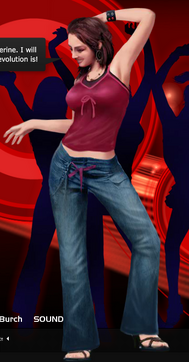 Catherine is a fictional character created as part of promotion for the Sony PlayStation 3 version of DanceDanceRevolution. Her "diary" is found at the official DanceDanceRevolution 2010 PS3 site.
Her diary entries consist of the various gameplay features on DDR PS3 as told in the eyes of a casual fan of the series. She has made four posts and has not made any more since January 7, 2011.
The release dates for the DLC was also posted on her currently last post.
Reception
Edit
The reception of Catherine to the DDR fans have been negative, if not extremely laughable or absurd. Her blog posts have been the point of ridicule due to her exhibition of Engrish at times and her infamous quotes on her first post about "losing six calories and eating all the pizza [she] wants". Nevertheless, the community has made an internet meme of her by rewriting her diary, inserting her into other pictures with photo manipulation and making "posts" in her style of speech (with the emoticons as well).
External Links
Edit
Ad blocker interference detected!
Wikia is a free-to-use site that makes money from advertising. We have a modified experience for viewers using ad blockers

Wikia is not accessible if you've made further modifications. Remove the custom ad blocker rule(s) and the page will load as expected.