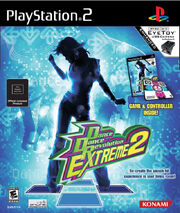 Dance Dance Revolution Extreme 2 was released on September 28, 2005 in the United States, September 6, 2005 for Japan and November 25, 2005 in Europe for the Sony PlayStation 2. The game is rated E10+ by the ESRB for Mild Lyrics and Suggestive Themes.
The core game mechanics remain unchanged from past versions of DDR. Each song has 4 or 5 difficulties, represented by foot ratings (the higher the number, the harder the song), the Groove Radar (previously absent from DDR Extreme PS2 for the United States) shows how difficualt a song is thru five categories.
Also, for the first time in PS2 DDR version, online play is available. Players can meet and play alongside other players online (like in Xbox Live for the Ultramix series) thru a broadband modem built into the PS2. The service was later on shut down to to pave way for the PS2 version of Dance Dance Revolution Supernova, which also has online play.
This is also the first DDR game to introduce the shop points. Playing songs allows you to earn points that can be used to unlock characters and songs.
Development
Edit
Modes of Play
Edit
Arcade Mode (Single, Versus, Double)
Hands and Feet Mode (EyeToy)
Watch me Dance (EyeToy)
Dance Master Mode - a Mission Mode in which songs are presented in such a way that they are to be played with a special handicap or to pass the song with a certain criteria.
Online Play - play songs with friends thru the internet using a broadband modem.
Interface and Visuals
Edit
Here, the animated background takes on a wireframe themed motif as arrows swirl by. In the select mode screen, all available difficulties for each song are readily seen while the Groove Radar changes colors according to the difficulty selected.
Each song plays with a new and unique background video while the dancing characters (if selected) appear as they would in past PS2 versions. Some background videos were later on reworked and used for other songs in Dance Dance Revolution STR!KE.
Soundtrack
Edit
The songlist for the American version is comprised of 24 licensed tracks and 50 Konami Original tracks. The licenses comprise of mainstream songs, songs licensed from Dancemania, or covers of popular songs (as done by in-house artists).
The Konami Original tracks are comprised of new songs for this game, songs from DDR Extreme, songs from past DDR versions, the challenge remixes, Bemani crossovers, the boss songs and a commissioned song (You Gotta Move it by Yuzo Koshiro).
Ports and Other Versions
Edit
The game was first announced and released for the PlayStation 2 in America. Versions for the Japanese and European PlayStation 2 were later on announced and released (as Dance Dance Revolution STR!KE and Dancing Stage Max, respectively). Unlike Dancing Stage Fusion, this game was not ported to the arcades.
Differences:
American PS2
The boss songs (written in Red) from this game are Paranoia Survivor and Paranoia Survivor Max.
Japanese PS2
The JP version has four exclusive licenses for this release. A cover of Choo Choo Train (originally by Exile, sung by Nippon Shounen) and Everyday at the Bus Stop (originally by Tommy February6, sung by Sanae Shintani), Let's Dance by David Bowie and Heaven is a Place on Earth (German Election Mix) by Julia. The rest of the licenses are the American mainstream licenses and the cover versions with new songs, IIDX and DDR Ultramix 2 crossovers padding out the default songlist.
Rather than include the songs from DDR Extreme or earlier, the songlist is comprised of songs from Dance Dance Revolution Ultramix 2 (which where only released in USA and Europe for the Xbox). There are no J-Pop licenses (there are two covers of J-Pop songs).
The boss songs are G2 by Aya and Max 300 Super-Max-Me-Mix by Jondi and Spesh (flashing 10-footer and Oni chart).
European PS2
The songlist is mostly the same as the American version, although the Challenge Remixes and songs already included in Fusion (Dive, Colors (for extreme), etc.) have been excluded.
Unlike the past Dancing Stage games, Expert is renamed Heavy and the player is not given the chance to choose a difficulty after picking the song.
The Groove Radar was informally introduced in this game. Prior to that, the PS2 mixes used a modified version of 7th Mix (DS Megamix) and 6th Mix (DS Fever) which replaced the Groove Radar with foot ratings for every difficulty of the chosen song.
The licenses are also different, containing songs from Local Artists like the Sugababes, Natasha Bedingfield Christina Milian, etc. Most of them also feature their original music videos.
DDR Extreme 2 got its E10+ rating due to the inclusion of In the Heat of the Night, a song by E-Rotic, a group known for having sexually suggestive lyrics in their songs (the song selected is relatively tame, though), Sexy Planet and its corresponding Challenge Remix version, a composition by Naoki Maeda that includes the soundbite of a woman moaning that loops over and over. Injection of Love by Akira Yamaoka may also be considered sexually suggestive, but the lyrics had to be removed for the game to maintain the E rating.
Extreme 2's interface serve as the base theme for future PS2 DDR Games.
The BPMs for Doll and IFUTURELIST (DDR VERSION) has been switched, that is, the former is shown as having 150 BPM while the latter appears to have 170 BPM.
Reception
Edit
For its time, Extreme 2 receive average ratings, with most reviewers saying that the game is "more of the same". IGN gave it a 7.5 rating ("Good"), stating that "It packs a wealth of awesome tunes and a good chunk of characters and info for players to unlock. The addition of an online component comes as a welcome twist to the series, even if the current state of the "virtual" arcade is somewhat sparse. In the end though, it's still very much DDR. Extreme 2 is a nice addition, sure, but it doesn't come close to revolutionizing the series. Maybe next year."
CNET gave the game 3.5 stars ("Very Good") with an average user rating of 4.0 stars based on 1 review. CNET stated that most of the licensed songs are old while some of them, like Spin Spin Sugar and Delirium are surprisingly danceable.
In retrospect however, most players point to Extreme 2 as being the epitome of how to make a North American version of a DDR game properly due to it's blend of good pop song licenses, classic Dancemania licenses (most of these were never seen in the JP versions after 5th Mix) and the Extreme songs in addition to the new songs included for this release.
External Links
Edit
CNET Review (courtesy of Gamespot) http://reviews.cnet.com/playstation-2-games/dance-dance-revolution-extreme/4505-9581_7-31394789.html#reviewPage1
Ad blocker interference detected!
Wikia is a free-to-use site that makes money from advertising. We have a modified experience for viewers using ad blockers

Wikia is not accessible if you've made further modifications. Remove the custom ad blocker rule(s) and the page will load as expected.