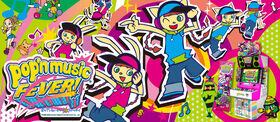 A rhythm music game created by Konami where you hit nine colored buttons in time to music. The interface is somewhat childish in appearance, but the game itself can get very difficult. The game is targeted at children, teens, and young adults.
In Pop'n Music, like in most Bemani games, color-coded notes (in this game called "Pop-kuns" (ポップ君) and anthropomorphized with faces) fall from the top of the screen in nine columns that correspond to the buttons. When a note reaches the red line at the bottom of the screen, the player presses the button, which triggers a sound within the song.
Each song is represented by a character, and players are represented by characters too. The player can choose a character by pressing both yellow buttons on the mode selection screen, but as of Pop'n Music 19, the character selection screen automatically pops up after choosing a mode. The default player characters are anthropomorphic rabbit Mimi and anthropomorphic cat Nyami.
Arcade Versions
Edit
Japan
pop'n music (Series)
pop'n music 2
pop'n music 3
pop'n music 4
pop'n music 5
pop'n music 6
pop'n music 7
pop'n music 8
pop'n music 9
pop'n musc 10
pop'n music 11
pop'n music 12 Iroha
pop'n music CARNIVAL
pop'n music 14 FEVER!
pop'n music 15 ADVENTURE
pop'n music 16 PARTY♪
pop'n music 17 THE MOVIE
pop'n music 18 Sengoku Retsuden
pop'n music 19 TUNE STREET
HELLO! POP'N MUSIC
pop'n music 20 fantasia
pop'n music Sunny Park
pop'n music Lapistoria
pop'n music éclale
Consumer Releases
Edit
PlayStation
Edit
pop'n music 3 APPEND DISC
pop'n music ANIMATION MELODY
pop'n music 4 APPEND DISC
PlayStation 2
Edit
pop'n music 13 CARNIVAL CS
pop'n taisen puzzle-dama ONLINE
Dreamcast
Edit
pop'n music 3 APPEND DISC (DC)
pop'n music 4 APPEND DISC (DC)
Game Boy Color
Edit
pop'n music DISNEY TUNES GB
United States
Ad blocker interference detected!
Wikia is a free-to-use site that makes money from advertising. We have a modified experience for viewers using ad blockers

Wikia is not accessible if you've made further modifications. Remove the custom ad blocker rule(s) and the page will load as expected.