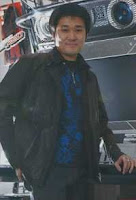 In an analogy, DJ Taka is to Beatmania IIDX what Naoki Maeda is to DanceDanceRevolution. He provides songs to most Bemani games like Pop'n Music, GuitarFreaks and DrumMania. He usually uses the keyboard to compose music. DJ Taka is a member of the core Beatnation group and has collaborated with fellow Bemani musicians like Tatsh, Naoki, Tomosuke and wac.
Branching out to DanceDanceRevolution
Edit
As Artist
Edit
After his collaboration with Naoki Maeda on Kakumei (a remix of Chopin's Revolutionary Etude and was featured as the Encore Extra Stage on both DDRMAX2 -Dance Dance Revolution 7thMIX- and beatmaniaIIDX 7th style), DJ Taka was once again approached and convinced by Naoki Maeda to compose a song for DanceDanceRevolution. He composed Freeway Shuffle, which was included on DanceDanceRevolution Supernova 2. He also composed Desert Journey, which was included in DanceDanceRevolution Hottest Party 2. Prior to any of these songs, his older songs are frequently featured as transplants on early DDR games.
As Sound Director
Edit
Naoki passed on to DJ Taka and TAG the position of Sound Producer for the arcade version of DanceDanceRevolution X2. Some of the features he added to the game is the inclusion of an Extra Stage System (named Replicant D-Action) which is akin to the Extra Stage systems on Beatmania IIDX, plus new and popular crossovers from IIDX (songs such as MEI, Vanessa, Smooooch and She is My Wife).
Pseudonyms/Alter-Egos
Edit
Outphase (with TaQ)
DE-JAVU - Only for TRIP MACHINE EVOLUTION.
Prior to his job at Konami, DJ Taka once worked as a Music Composer on Namco and worked on games like Soul Edge.
He also composed music for non-Bemani game Rumble Roses.
External Links
Edit
Ad blocker interference detected!
Wikia is a free-to-use site that makes money from advertising. We have a modified experience for viewers using ad blockers

Wikia is not accessible if you've made further modifications. Remove the custom ad blocker rule(s) and the page will load as expected.